House Specials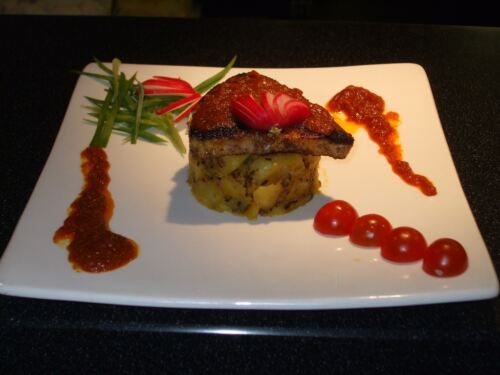 Introducing a selection of Chef's signature dishes comprising of popular saltwater fish delicately cooked in a perfect combination of ingredients. A truly fantastic selection to meet the palates of fish lovers!
SPICED CRUST MONKFISH - Marinated in a delicate tomato & coconut sauce and then lightly grilled, decorated with Chef's special mustard-based sauce and served with lemon rice.
£12.90
GRILLED SEABASS - Fillet of seabass marinated with pickling spices, cooked on a grill, served with spicy potato, asparagus and tangy mango sauce.
£11.90
SHORISHA SWORDFISH - Fillet of swordfish covered by a mustard and honey marinade then lightly cooked under a grill, accompanied by new potatoes and a sweet & sour sauce.
£12.90
SALMON GOAMOREE - Fillet of salmon marinated with chat massalla, funnel seeds cooked on a grill. Served sizzling.
£11.90
ZEERA CHICKEN or LAMB TIKKA - Funnel seeds, fresh garlic, ginger and our own special tangy sauce but smooth & full of flavour (Sizzling).
£10.50
JAMANI MASALA - The chef's latest creation - Tikka of chicken, sprinkled with a subtle blend of roasted aromatic spices and braised in the oven.
£11.90
CHEF'S SPECIALITIES - An exquisite dish from Mumbai. Chicken breast cooked in a spicy masala with garlic, red onions, mix of peppers served with flaming whisky.
£13.90
GARLIC CHICKEN TIKKA - Sizzling (Medium Hot).
£10.90
SUBARI CHICKEN or LAMB - NEW! - Steam-cooked pieces of chicken or lamb with ginger, garlic, yoghurt, cream and dried whole red chilli (Medium Hot).
£12.90

Vegetarian options are available for all dishes on this menu. Please ask your waiter.